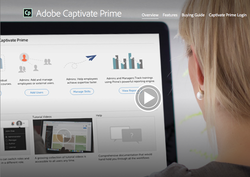 Adobe Captivate Prime - a brand new LMS from Adobe!
September 01, 2015
10:00 am - 11:00 am PDT (UTC-07:00)
Join Dr.Allen Partridge, Sr. Adobe eLearning Evangelist, as he announces and unravels the marvels of the brand new LMS from Adobe -
Adobe Captivate Prime is a cloud-based LMS. If your organization is investing in learning, and looking to measure the business impact of learning, encourage employees to embrace, not dodge learning and make your L&D team self-reliant, you should consider Captivate Prime. The L&D managers will no longer have to wait on IT to roll-out programs or waste time worry about content & LMS integration. Instead, they can now fruitfully collaborate with business leaders to plan and deploy learning initiatives to best address skill-gaps within an organization.
Join us Tuesday, and allow us to help you get up to speed with Prime the latest learning tool by Adobe.
LMS@Digi-Quest.com