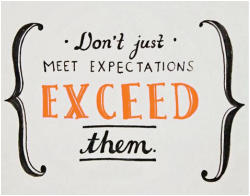 Building Successful Content -

Simplify
Specify one or two font types, borders, textures, and layouts and then use them throughout the courses in order to create a streamlined and organized learner experience. Try to keep in mind the K.I.S.S. theory. "Keep It Simple, Silly".

Harmony
Create order by paying attention to "focal points" and considering the "relationship" between each element. This will help reduce clutter and make your courses more cohesive and flow with harmony.

Purpose
Stunning and visually striking fonts may help to bring innovation and creativity into your course design, but can learners read it? Make sure text, images, even audio support your message and provide purpose.


Balance
Learners will be digesting content from left to right, make sure that you include the most pertinent information on the left hand side of the screen and then balance the page with images on the right. Images and audio are meant to support the learners absorption so make sure to balance elements from a learners perspective.